The ongoing disruption of global supply chains and the war in Ukraine pose unprecedented challenges to suppliers of wooden products and the whole construction sector. Customers feel this: lack of raw materials or rising prices, longer lead times, and even limited range.
However,  ECOWOOD continues supplying high-quality products from oak wood produced in Europe (including Ukraine) without sacrificing quality standards or lead times.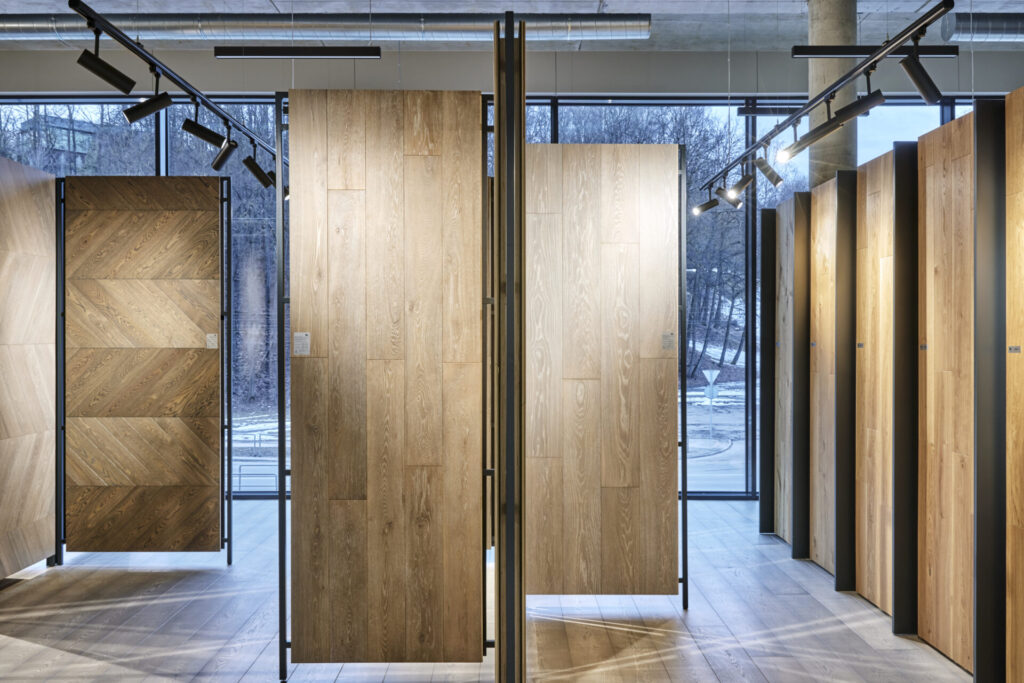 Controlled and Well-Coordinated Production
While we are not the only ones to offer oak flooring solutions, the secret to our success lies in the complete control of all the processes.
The ECOWOOD plant takes care of raw material sourcing, wood preparation, proper drying, and quality production. We have an extensive network of reliable partners in European countries and work closely with the sellers and installers.
What also helps to achieve exceptional quality and lead times are relatively short "product miles" — using materials from the same continent and being able to stay relatively geographically close to the clients. This allows us to be very flexible — implement big projects on time and offer personalized solutions adapted to specific customers' wishes.
The implementation of each order takes place in the factory belonging to the ECOWOOD group in Vilkija, Kaunas district:
• We get raw materials from European forests, including Ukraine, and dry them ourselves;
• For herringbone parquet, we use equipment that allows maximum precision;
• The cutting of the specific details, such as the ones used for stairs, is done with robotic machinery that guarantees accuracy.
Focus on Sustainability in All Production Activities
We use Nature's resources daily. Therefore, we do our best to contribute to maintaining the natural balance. The materials we use, the production technologies, the partners we choose, and the internal initiatives only confirm this.
• We purchase much of the raw materials from suppliers which conserve forests and guarantee their responsible maintenance and reforestation. Many of them are FSC® certified.
• Solar power plant and other energy-saving initiatives contribute to the industry's sustainable and environmentally friendly development. They also allow us to manage costs that convert into favourable prices for customers.
• We choose to work only with reliable partners who share the same values.
• The ECOWOOD plant, Medžio stilius in Lithuania, Styl Drzewa in Poland, Ecohardwood in the United Kingdom, the Dubai plant in Ukraine and Oak Style are all united by passion and respect for oak. Our teams meet at annual oak planting, and other initiatives ECOWOOD group's employees decide to foster.
Wide Selection of Oak Wood Flooring
When one can choose from many different colours, qualities, styles, and product models of oak wood that enrich the interior, unique solutions can be created.
Thus, in addition to offering an astonishing speed of order fulfilment and the exceptional quality of work, we can surprise the clients with a variety of innovative products. Thanks to our experienced engineers' team and creative, experimental group, we can launch new products each year.
50 colours and 5000 different ways to produce wooden flooring — that's how much we can offer.
Stylish & Durable Oak Wood Flooring at Affordable Prices
The widespread opinion that natural wood solutions in the interior are only available to premium consumers is outdated. The competitiveness of oak solutions is growing strongly, given the longevity of properly installed products and how quality materials add value to the home.
ECOWOOD is one of the most modern oak flooring, doors and stairs producers that uses high-quality European oak to manufacture premium quality flooring & doors. We're expanding and looking for new distribution partners.
Our advantages:
20+ years of experience
Guaranteed delivery and competitive lead times
Attractive prices
Wide assortment of different wood colours, shades and grades
Contact us, and let's discuss the options of partnering.